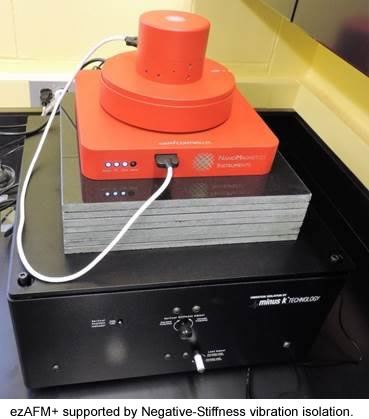 Since the release of the first commercial atomic force microscope (AFM) about 30 years ago, technology advances have steadily been implemented to improve their performance. Now, the most recent advance in ambient-temperature AFMs is making them more compact, portable and user-friendly, which is enabled by Negative-Stiffness vibration isolation.

The atomic force microscope (AFM) has become one of the foremost tools for imaging and measuring materials and cells on the nanoscale. Revealing sample details at the atomic level, with resolution on the order of fractions of a nanometer, the AFM is instrumental for imaging an array of applications, such as defining surface characterizations, lithography, data storage, and manipulation of atoms and nano-sized structures on a variety of surfaces.

The AFM utilizes a sharp tip (probe) with a radius of curvature on the order of a few nanometers attached to the end of a tiny cantilever used to scan across a sample surface to image its topography and material properties. When the tip is brought into proximity of a sample surface, forces between the tip and the surface lead to a deflection of the cantilever. This deflection is recorded using, typically, a laser beam that is reflected from the top surface of the cantilever to a photo-sensitive detector. The resultant change of position of the cantilever/probe/tip permits characteristics such as mechanical, electrostatic, magnetic, chemical and other forces to be precisely measured by the AFM. These characteristics are displayed in a three-dimensional surface profile of the sample (in the X, Y and Z axes), an advantage that the AFM can provide compared to other microscopy techniques.

Although AFM technology has advanced considerably, its benefits have not always been easily accessible for researchers requiring AFM adaptability, portability. Nor have AFMs been adequately accessible in nanotechnology student laboratories, because of lack of student skill in their operation, and budget limitations on the number of AFMs at their disposal.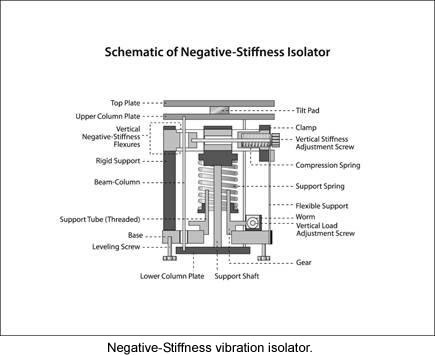 A More Portable, More User-Friendly AFM
These inhibitions have now been mitigated by a relatively new compact, portable and user-friendly ambient-temperature AFM. Developed by NanoMagnetics Instruments, a leading manufacturer of scanning probe microscopes for low-temperature applications, the ezAFM+ atomic force microscope is a benchtop instrument designed for short learning times, quick setup, and ease of transport.