Number 13, November 2013

What's Here for You:
Vibration Isolation News is designed to keep our customers and friends up to date on the latest products and applications designed to facilitate better measurements and improved nanomanufacturing. We are an OEM supplier to leading manufacturers of scanning probe microscopes, micro-hardness testers and other sensitive instruments, and we have users at more than 200 leading universities and private and government laboratories in 43 countries.

INDEX

1. Future Product: The Ultra Compact LC-4

2. Minus K 20 Year Celebration Isolator Giveaway to U.S. Colleges and Universities


3. Upcoming Nanotechnology Meetings and Webinars


4. We want to hear from YOU

Minus K Technology currently builds
vibration isolators to handle payloads from
3 lbs to 10,000 lbs (per isolator).

When you need the best isolation for your dollar.
Our patented technology will provide you true 1/2 Hz performance.
Give us your challenge.



Future Product: Minus K's is designing a new ultra compact isolator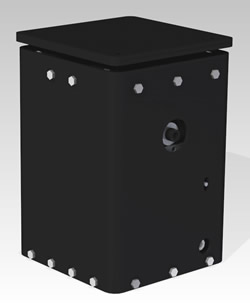 The LC-4 is a very compact, low frequency, negative-stiffness isolator.

Nominal payload capacities for both models will be 25 lb (11 kg), 50 lb (23 kg), 100 lb (46 kg) and 150 lb (68 kg) for this ultra compact isolator.

Planned performance characteristics:
Vertical natural frequencies will be adjustable to 0.5 Hz throughout the payload ranges. Horizontal natural frequencies will be weight dependent with one option offering 0.5 Hz at the upper payload limit and another option offering 1.5 Hz at the upper payload limit.

As with all Minus K isolators, the LC-4 will be completely passive and use no air or electricity. The isolators can be combined into multi isolator systems to support heavy payloads while taking up very little room themselves.

If needed, the LC-4 isolators can be customized to achieve user specific needs, E.g., different horizontal and vertical frequencies, damping, etc. They can also be made cleanroom or vacuum compatible.




Specifications:
Dimensions will be approximately:
1.5-Hz horizontal models
4.8" W x 4.8" D x 7.0" H (122mm W x 122mm D x 178mm H)

0.5-Hz horizontal models
4.8" W x 4.8" D x 8.5" H (122mm W x 122mm D x 216mm H)
.
http://www.minusk.com/content/products/standard/cm1-low-frequency-cubic-vibration-isolation-isolators.html




Minus K 20 Year Celebration Vibration Isolator Giveaway
to U.S. Colleges and Universities


We are celebrating 20 years of business by giving away $20,000* worth of our patented vibration isolators to colleges within the United States.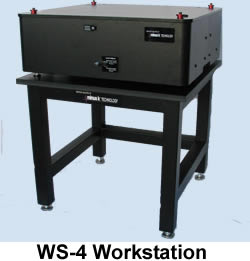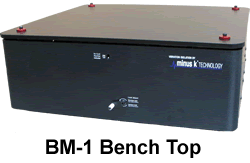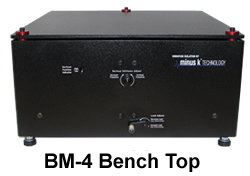 Any college/university within the United States, that have an AFM, Electron Microscope, Interferometer, Laser Optical System, Micro Hardness Tester, or any other special equipment that would benefit from a low-frequency vibration isolator and apply. No purchase necessary.

The submission forms will be judged by the 20 Year Giveaway Committee on multiple catagories.Limited to one submission per college department. Submission deadline for applications is January 31, 2014.
The selected college departments will be notified by February 28, 2014 and posted on Minus K's website.
A new FREE Minus K vibration isolator will be shipped within one month of notification.

Minus K will conduct a brief interview with the selected departments six months after receiving their isolator. The interviews will be used to learn how vibration isolator helped with the application goals and interview may be used for articles in industry publications.

Full information available on our website at www.minusk.com/20yrgiveaway.html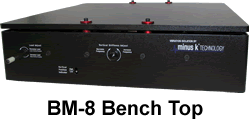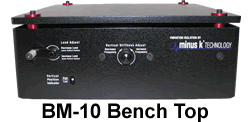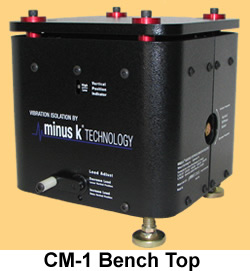 Comments/Suggestions: Applications in New Fields or Features of Interest to You in Our Next Newsletter:
Upcoming Meetings and Webinars:


Meeting:
Sponsor:
Dates:
Location:
Photonics West 2014

Visit the Minus K Booth #5307 at this exhibit
Feb. 4, 2014 -
Feb. 6, 2014
San Francisco , CA
http://spie.org/x2584.xml
Biophysical Society 58th Annual Meeting 2014

Visit the Minus K Booth #812 at this exhibit
Feb. 15, 2014 -
Feb. 19, 2014
San Francisco , CA
http://www.biophysics.org/2014meeting/Main/tabid/3523/Default.aspx
2014 MRS Spring Meeting & Exhibit

Material Reseach Society
Apr. 21, 2013 -
Apr. 25, 2013
San Francisco , CA
http://www.mrs.org/spring2014/
NSTI NanoTech 2014
NSTI

May. 12, 2014 -
May. 15, 2014
Washington, D.C.
http://www.techconnectworld.com/Nanotech2014/
SPIE Optics & Photonics 2014

Visit the Minus K Booth at this exhibit
Aug. 17, 2013 -
Aug.. 21, 2013
San Diego, CA
http://spie.org/optics-photonics.xml
Click Here To Join Us Now On Facebook


We want to hear from you:

Tell us if you have had a great experience with our isolators. Work with us on an article about how negative-stiffness has helped you. Don't be shy. Share your application with our readers.

Do you have an application in a New Field? What applications are of Interest to You?
Email us at newsletter@minusk.com

460 S. Hindry Ave., Unit C Inglewood, CA 90301
Tel: 310-348-9656 Fax: 310-348-9638
Contact Us www.MinusK.com
© Minus K Technology Inc., Vibration Isolation Systems. All rights reserved.