Number 12, February 2013

What's Here for You:
Vibration Isolation News is designed to keep our customers and friends up to date on the latest products and applications designed to facilitate better measurements and improved nanomanufacturing. We are an OEM supplier to leading manufacturers of scanning probe microscopes, micro-hardness testers and other sensitive instruments, and we have users at more than 200 leading universities and private and government laboratories in 42 countries.

INDEX

1. Turning the tables on Vibration


2. Featured Product: The NEW CM-1 Compact AND Large Capacity

3. Happy Birthday Minus K Technology, Inc.


4. Minus K is a Veteran Owned California Certified Small Business


5. Upcoming Nanotechnology Meetings and Webinars


6. We want to hear from YOU

Minus K Technology currently builds
vibration isolators to handle payloads from
3 lbs to 10,000 lbs (per isolator).

When you need the best isolation for your dollar.
Our patented technology will provide you true 1/2 Hz performance.
Give us your challenge.



As a method for vibration isolation, the traditional air table is now being challenged by the more compact effective Negative-Stiffness vibration isolators, developed by Minus K Technology

Excerpted from Cleanroom Technology Magazine:
For almost 40 years pneumatic vibration isolators - air tables - have I been the mainstay fur stabilizing industry and academia's most critical micro-engineering instrumentation. But just as technology has been migrating steadily from micro to nano, so has the need for more precise vibration isolation in microelectronics fabrication, industrial laser/ optical systems and biological research.
These so-called "passive system" air tables are now being seriously challenged by the newer Negative-Stiffness vibration isolators. Negative-Stiffness isolation is rapidly gaining popularity in industrial and laboratory environments, mainly because of its ability to isolate vibration effectively in diverse and challenging environments.
Because of their very high isolation efficiencies, Negative-Stiffness vibration isolation systems enable vibration-sensitive instruments, such as scanning probe microscopes, micro-hardness testers, profilers and scanning electron microscopes, to operate in harsh conditions and severe vibration environments that would not be practical with top-performance air tables and other pneumatic isolation systems.
Negative-Stiffness isolators employ a different and completely mechanical concept in low-frequency vibration isolation. Vertical-motion isolation is provided by a stiff spring that supports a weight load, combined with a Negative-Stiffness mechanism. The net vertical stiffness is made very low without affecting the static load-supporting capability of the spring.
Low Hertz perturbations: An air table will amplify vibrations in a typical range of 2-7Hz; this is because of the natural frequencies at which air tables resonate. All isolators will amplify at their resonant frequency, and then they will start isolating. So with an air table, any vibration in that range could not only fail to be mitigated, it could be amplified. The low cycle perturbations would just come straight through to the instrument.
Negative-Stiffness isolators resonate at 0.5Hz, At this frequency there is almost no energy present. It would be very unusual to find a significant vibration at 0.5 Hz.
Image clarity: Negative-Stiffness vibration isolation can reduce vibration noise levels in Atomic Force Microscopes, for example, by a factor of 2 to 3 when compared with top-performance air tables. This is significant for noise levels in the sub-Angstrom range. This results in clearer images and features not discernible with pneumatic isolation systems.
Severe vibration environments: As nano-cquiprnent becomes more prevalent, lab sites are being set up in much more severe vibration-prone environments, such as upper floors of buildings and cleanrooms. Such severe vibration locations are too extreme for pneumatic isolators to do their job effectively. But Negative-Stiffness isolators perform well in such environments, producing much better images and data than can be obtained with even the best high-performance air tables.
Maintenance and expense: Because Negative-Stiffness isolators utilize simple elastic structures and viscoelastic materials that deform, their isolation performance does not degrade with micromotions typical of lab floors and fabrication rooms, as do conventional pneumatic isolators. Negative-Stiffness isolators are also comparable in price to air isolators or lower priced for many applications.
As industrial researchers and universities continue to broaden their nanotech work, necessitating more sensitive equipment and expanded lab facilities, vibration-handicapped environments will become more prevalent, and a better vibration isolation solution will be required than that provided by air tables for the past half-century. It appears Negative-Stiffness vibration isolation will fill that void.
Check out the whole article at:
http://www.minusk.com/content/in-the-news/Cleanroom_Technology_0412.html


Featured Product: The CM-1 Minus K's new Compact Large Capacity Isolator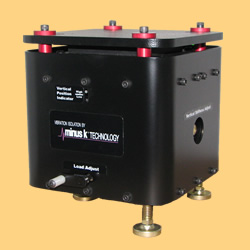 The new CM-1 is a compact high capacity, low-frequency negative-stiffness isolator. As with all Minus K isolators, they are completely passive and use no air or electricity. The isolators can be combined into multi isolator systems to support heavy payloads while taking up very little room themselves.

The CM-1 isolators can be placed on pedestals to bring them to an appropriate height to retrofit your existing air table, enabling you to keep your existing table top and achieve much better isolation.

The CM-1 isolators come in several capacity ranges to match your vibration-sensitive instruments such as SPMs (AFMS, STMs, etc), micro-hardness testers, profilers, interferometers, electron microscopes, or other imaging systems.

If needed, the CM-1 isolators can be customized to achieve user specific needs. Eg., different horizontal and vertical frequencies, damping, etc. They can also be made cleanroom and vacuum. compatible.

Load Capacities (approximate):
Model
Payload Range*

Price**

200CM-1

50 - 200 lbs (22.7 - 90.7 kg)

$3,475

500CM-1

200 - 500 lbs (90.7 - 226.8 kg)

$3,525

800CM-1

500 - 800 lbs (226.8 - 362.9 kg)

$3,675

*Contact Minus K for custom payload ranges

.

**For International Orders, A Handling Fee of 5% is Added.
Specifications:
Weight: Approximately 26 lb (11.8 kg)
Dimensions: 7.875" W x 7.875" D x 8.5" H (200mm W x 200mm D x 216mm H)

Performance

Horizontal frequencies are weight dependent.

Horizontal frequency of 0.5 Hz is achieved at the upper limit of the payload range.

Vertical frequency is tunable to 0.5 Hz throughout the payload range.

http://www.minusk.com/content/products/standard/cm1-low-frequency-cubic-vibration-isolation-isolators.html




Minus K Technology is 20 Years Old


Minus K® Technology, Inc. was founded in 1993 to develop, manufacture and market our state-of-the-art vibration isolation products based on our patented negative-stiffness technology.
Dr. David L. Platus is President, Founder and is the principal inventor of the technology. Prior to founding Minus K® Technology he worked in the nuclear, aerospace and defense industries conducting and directing analysis and design projects in structural-mechanical systems. He became an independent consultant in 1988. Dr. Platus holds over 20 patents related to shock and vibration isolation.
The Minus K® products, formerly sold under the trade name Nano-K®, represent an important enabling technology. By reducing building and floor vibrations to unprecedented levels these systems enable vibration sensitive instruments and equipment to perform at unprecedented levels. They are used in a broad spectrum of applications including nanotechnology, biological sciences, semiconductors, materials research, zero-g simulation of spacecraft, and high-end audio. Minus K® is an OEM supplier to leading manufactures of scanning probe microscopes, micro-hardness testers and other vibration-sensitive instruments and equipment.
We are happy to celebrate this milestone of 20 years in business with our customers and friends.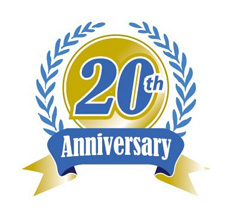 News: Minus K Technology Is Veteran Owned and Certified California Small Business

Minus K is a Veteran Owned Small Business.and a certified State of California Small Business. All our products are proudly made in the USA.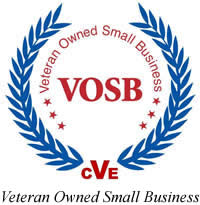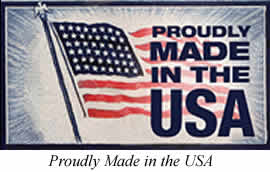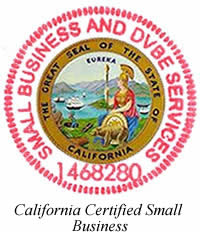 Comments/Suggestions: Applications in New Fields or Features of Interest to You in Our Next Newsletter:
Upcoming Meetings and Webinars:


Meeting:
Sponsor:
Dates:
Location:
The12th International Nanotechnology Exhibition & Conference
ICS Convention Design, Inc
Jan. 30, 2013 -
Feb. 1, 2013
Tokyo, Japan
http://www.nanotechexpo.jp/en
Biophysical Society 57th Annual Meeting

Visit Minus K Booth #311 at this exhibit
Feb. 2, 2013 -
Feb. 6, 2013
Philadelphia, PA
http://www.biophysics.org/2013meeting/Main/tabid/3523/Default.aspx
2013 APS March Meeting

APS
Mar. 18, 2013 -
Mar. 22, 2013
Baltimore, MD
http://www.aps.org/meetings/march/
2013 MRS Spring Meeting & Exhibit

Material Reseach Society
Apr. 2, 2013 -
Apr. 3, 2013
San Francisco , CA
http://www.mrs.org/spring2013/
NSTI NanoTech 2013
Visit Minus K Booth #218 at this exhibit

May. 12, 2013 -
May. 15, 2013
Washington, D.C.
http://www.techconnectworld.com/Nanotech2013/
Spacecraft Expo 2013

Visit Minus K Booth #7016 at this exhibit

May. 21, 2013 -
May. 23, 2013
Long Beach, CA
http://www.spacetechexpo.com/
SPIE Optics & Photonics 2013

Visit the Minus K Booth at this exhibit
Aug. 27, 2013 -
Aug.. 29, 2013
San Diego, CA
http://spie.org/optics-photonics.xml
Click Here To Join Us Now On Facebook


We want to hear from you:

Tell us if you have had a great experience with our isolators. Work with us on an article about how negative-stiffness has helped you. Don't be shy. Share your application with our readers.

Do you have an application in a New Field? What applications are of Interest to You?
Email us at newsletter@minusk.com

460 S. Hindry Ave., Unit C Inglewood, CA 90301
Tel: 310-348-9656 Fax: 310-348-9638
Contact Us www.MinusK.com
© Minus K Technology Inc., Vibration Isolation Systems. All rights reserved.