Number 11, November 2012

What's Here for You:
Vibration Isolation News is designed to keep our customers and friends up to date on the latest products and applications designed to facilitate better measurements and improved nanomanufacturing. We are an OEM supplier to leading manufacturers of scanning probe microscopes, micro-hardness testers and other sensitive instruments, and we have users at more than 200 leading universities and private and government laboratories in 42 countries.

INDEX

1. The Audiophile World Is Opening Their Ears to Minus K


2. Featured Product: The BM-4 payload is now up to 200 lbs

3. Press Release: Custom JWST Isolators #2-6 have been ordered


4. Minus K is a Veteran Owned California Certified Small Business


5. Upcoming Nanotechnology Meetings and Webinars


6. We want to hear from YOU

Minus K Technology currently builds
vibration isolators to handle payloads from
3 lbs to 10,000 lbs (per isolator).

When you need the best isolation for your dollar.
Our patented technology will provide you true 1/2 Hz performance.
Give us your challenge.



Minus K is providing Audiophiles a new level of sonic transparency

Minus K's products have always added to the audio experience, but lately audiophiles have seemed to stumble on us again. Within the last few months five different magazines and online blogs have opened their ears while using Minus K's vibration isolators with their turntables, DAC, Blue Ray players and tube amps.
Here are a couple of excerpts:
"Wow! This is a phenomenal product that works as claimed! Our worst-case challenge is to isolate external vibrations from interfering with our turntable systems. Presently, we use three reference turntables: the Linn Sondek LP12 with Linn Radikal DC motor, motor control unit and power supply and Ekos SE tonearm with an Akiva moving-coil cartridge, and the Thorens TD 350 and Thorens TD 2035. The Linn setup is in Widescreen Review's reference system and the Thorens in a secondary, Class A system. Both setups are prone to vibration within a frame wood structure and concrete slab foundation. In fact, one must walk with extreme care to not cause the stylus to jump grooves. Thus, this was a perfect test for the BM-8."
"In both locations, with the Linn and Thorens supported by the BM-8, the stylus jump condition was completely eliminated! But the real benefit was the immediate sense of openness to the sound that was obviously previously masked by vibration and the seemingly complete absence of rumble and acoustic feedback. The BM-8 has no competition in this regard and is a MUST HAVE component in an enthusiast's system."
"We also positioned the OPPO BDP-95 Universal 3D Blu-ray Disc Player on the BM-8. While the sonic improvement was not as dramatic an improvement compared to the turntable performance, still a detectable nuanced clarity in the sound resulted. The BM-8 is simply an amazing vibration platform product that provides an impressive degree of isolation from vibration distortions, resulting is definitive sonic refinement. Recommended!"
- Widescreen Review
"This owner and a few others told me that the addition of the Minus K technology took an already amazing turntable to a whole new sonic performance level and that it also totally eliminated foot-fall based stylus-skipping issues, though that's not a problem in my concrete slab floor located listening room. "
"The sonic difference was "as advertised" to me by one of the Continuum owners: (among other sonic benefits) the blackness of the backdrop, which already was noticeably superior to any turntable I'd heard got even blacker and took the term "silence" to new levels. Another Caliburn owner was so impressed he bought a self-contained unit and put it under his DAC. He says it made an equally profound difference." - AnalogPlanet (Michael Fremer)
Check out Tone Audio and Sixmoons reviews as well as other articles at:
http://www.minusk.com/content/in-the-news_vibration_control_anti_vibration_isolation.html



Featured Product: The BM-4 can now handle payload up to 200 lbs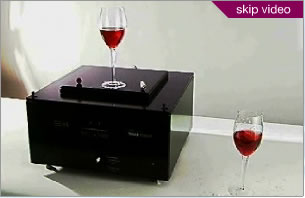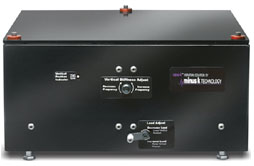 Minus K has increased the range on our least expensive half hertz horizontal isolator which can now handle payloads up to 200 lbs. So we are now proud to introduce our new BM-4 models, the 150BM-4 & 200BM-4.

The BM-4 currently offers the smallest footprint for the 0.5 Hz horizontal natural frequency and our signature 0.5 Hz vertical natural frequency.

The 25BM-4 is the star of our famous wine glass demo that is on our home page
Load Capacities (approximate):
Model
Payload Range*

Price**

25BM-4

0 - 25 lb (0 - 11 kg)

$2,750

50BM-4

20 - 55 lb (9 - 25 kg)

$2,805

100BM-4

50 - 105 lb (23 - 48 kg)

$2,860

150BM-4

90 - 155 lb (41 - 70 kg)

$2,915

200BM-4
145 - 205 lb (63 - 93 kg)

$2,970

*Contact Minus K for custom payload ranges

.

**For International Orders, A Handling Fee of 5% is Added.
Specifications:
Weight: Approximately 60 lb (27 kg)
Dimensions: 16.8" W x 16.8" D x 8.5" H (427mm W x 4270mm D x 216mm H)

Performance


Minus K Negative-Stiffness Vibration Isolators #2-6 Ordered for the
James Webb Space Telescope


Minus K Technology, Inc. has received the order to provide vibration isolators, numbers two through six, for the ground testing of the new James Webb Space Telescope (JWST) at the Johnson Space Center (JSC). Minus K completed the order for the first of the six Negative-Stiffness vibration isolators in February 2012.
The JWST will be placed in a thermal vacuum chamber at the Johnson Space Center and supported by a set of six custom Minus K vibration isolators. "The isolators will utilize Minus K's new thermal compensator device, a passive mechanical device (patent pending), requiring no air or electricity just like our isolators." says Dr. David Platus, president of Minus K and principal inventor of the patented Negative-Stiffness technology. "The compensator will adjust the isolators as the temperature changes throughout the testing at JSC, keeping the JWST in the proper position."
The James Webb Space Telescope is a large-aperture infrared space telescope that has a large mirror, 6.5 meters (21.3 feet) in diameter and a sunshield the size of a tennis court. The JWST is planned to be launched from Arianespace's ELA-3 launch complex at European Spaceport located near Kourou, French Guiana. in 2018 aboard an Ariane 5 launch vehicle.
Minus K Technology, Inc. works with many aerospace and education laboratories for custom vibration isolation systems. They have manufactured custom vibration isolators for the Jet Propulsion Laboratory (JPL), German Center for Aerospace (DLR), European Space Research and Technology Centre/European Space Agency (ESTEC/ESA) in addition to the JWST custom isolators for the National Aeronautics and Space Administration (NASA).

(Below is a picture of the first isolator and how the Minus K isolators will be used for Ground Testing)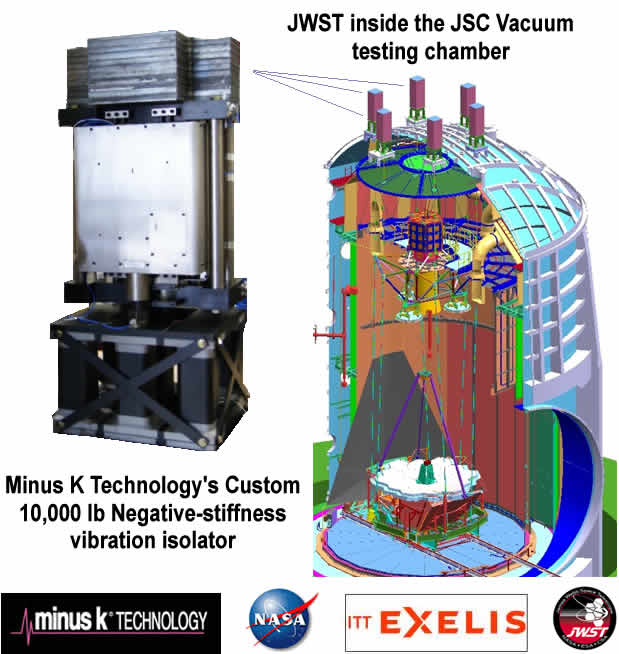 News: Minus K Technology Is Veteran Owned and Certified California Small Business

Minus K is a Veteran Owned Small Business.and a certified State of California Small Business. All our products are proudly made in the USA.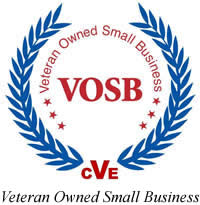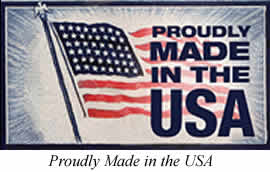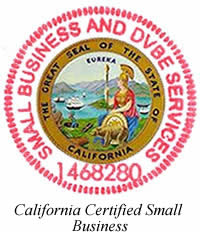 Comments/Suggestions: Applications in New Fields or Features of Interest to You in Our Next Newsletter:
Upcoming Meetings and Webinars:


Meeting:
Sponsor:
Dates:
Location:
The12th International Nanotechnology Exhibition & Conference
ICS Convention Design, Inc
Jan. 30, 2013 -
Feb. 1, 2013
Tokyo, Japan
http://www.nanotechexpo.jp/en
Biophysical Society 57th Annual Meeting

Visit Minus K Booth #311 at this exhibit
Feb. 2, 2013 -
Feb. 6, 2013
Philadelphia, PA
http://www.biophysics.org/2013meeting/Main/tabid/3523/Default.aspx
SPIE Photonics West 2013

SPIE
Feb. 5, 2013 -
Feb. 7, 2013
San Francisco, CA
http://spie.org/x2584.xml
2013 APS March Meeting

APS
Mar. 18, 2013 -
Mar. 22, 2013
Baltimore, MD
http://www.aps.org/meetings/march/
NSTI NanoTech 2013
Visit Minus K Booth #218 at this exhibit

May. 12, 2013 -
May. 15, 2013
Washington, D.C.
http://www.techconnectworld.com/Nanotech2013/
Spacecraft Espo 2013

Visit Minus K Booth #7016 at this exhibit

May. 21, 2013 -
May. 23, 2013
Long Beach, CA
http://www.spacetechexpo.com/
Click Here To Join Us Now On Facebook


We want to hear from you:

Tell us if you have had a great experience with our isolators. Work with us on an article about how negative-stiffness has helped you. Don't be shy. Share your application with our readers.

Do you have an application in a New Field? What applications are of Interest to You?
Email us at newsletter@minusk.com

460 S. Hindry Ave., Unit C Inglewood, CA 90301
Tel: 310-348-9656 Fax: 310-348-9638
Contact Us www.MinusK.com
© Minus K Technology Inc., Vibration Isolation Systems. All rights reserved.