Number 9, September 2011

What's Here for You:
Vibration Isolation News is designed to keep our customers and friends up to date on the latest products and applications designed to facilitate better measurements and improved nanomanufacturing. We are an OEM supplier to leading manufacturers of scanning probe microscopes, micro-hardness testers and other sensitive instruments, and we have users at more than 200 leading universities and private and government laboratories in 40 countries.

INDEX

1. Negative-Stiffness Vibration Isolation Helps Large Growth Crystals


2. Featured Product: Small But Mighty BM-10

3. Press Release: New MK52 Vibration Control Optical Table


4. Minus K is a Veteran Owned California Certified Small Business


5. Upcoming Nanotechnology Meetings and Webinars


6. We want to hear from YOU

Minus K Technology currently builds
vibration isolators to handle payloads from
3 lbs to 10,000 lbs (per isolator).

When you need the best isolation for your dollar.
Our patented technology will provide you true 1/2 Hz performance.
Give us your challenge.


Negative-Stiffness Vibration Isolation Facilitates Growth Of Large Crystals For Field-Portable Gamma Ray Spectrometers
By Jim McMahon
Excerpted from Photonics Online - July 2011
At Kansas State University, a unique facility is dedicated to the research and development of new and innovative radiation detector technologies. The Semiconductor Materials and Radiological Technologies (SMART) Laboratory is the largest university-based radiation detection laboratory in the country. It focuses on the detection of neutrons and gamma-rays, primarily those from special nuclear material (SNM) for homeland security applications. SMART Lab investigates and fabricates a variety of detectors which include compact low-power neutron detectors, high-resolution room-temperature-operated semiconductor gamma ray spectrometers, pixelated devices for gamma ray or neutron imaging, and miniaturized gas-filled detectors. The laboratory builds detectors from start to finish in readily deployable packages for use in better securing our borders from nuclear materials such as plutonium and uranium.
The gamma ray detection aspect of the laboratory's research is focused on the discovery and development of new dense, high-Z* semiconductor materials, such as cadmium zinc telluride (CdZnTe or CZT) and mercuric iodide (HgI2), and several scintillator materials including lanthanum tribromide (LaBr3) and cerium tribromide (CeBr3). Research conducted on large crystal growth with high-Z semiconductor and scintillator materials has produced large crystal ingot yields. (*The atomic number which uniquely identifies a chemical element is represented by the symbol Z. Also known as the proton number, it is the number of protons found in the nucleus of an atom and identical to the charge number of the nucleus.)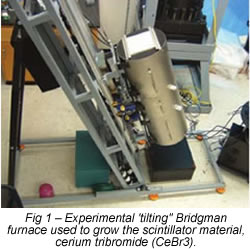 Growing Giant Crystal At the SMART Laboratory, crystals of CdZnTe and the scintillator materials are grown via a vertical Bridgman furnace. In this process, molten material is directionally solidified from one end to the other to produce a large-volume ingot that is a single crystal. Methods to grow CdZnTe for gamma-ray spectrometers have been explored since the early 1990s, yet a reliable system to produce large crystals at an economical cost has not been achieved until relatively recently. Higher ingot yields enable smaller, faster and more accurate sensors, and allow gamma-ray detectors to be more economical and field-portable - benefits that can have a significant impact on national security objectives. Radiation detectors using CZT can operate in direct-conversion (or photoconductive) mode at room temperature.
Vibration Isolation
Critical to maximizing ingot yield is maintaining a stable crystal growth process through the elimination of external vibrations.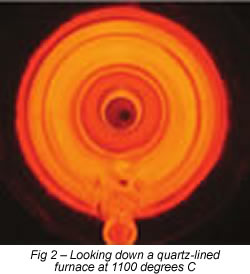 "The general consensus within the crystal growth community is that uncontrolled vibrations can destabilize the growth interface," says Professor Mark Harrison with SMART Lab. "As the material is freezing from bottom to top, there is an interface between liquid and solid, and it sets up a natural convection flow that is ideal for growing a big, single crystal. If a vibration disturbs the liquid directly above the forming crystal solid, it can change the convection patterns and multiple crystals will form from the previous single crystal. Which is contrary to our purpose of growing large, single crystals."

"We looked into various active and air table vibration handling systems, and eventually selected Negative-Stiffness vibration isolation," continues Harrison. "One of the concerns we had was surface waves coming across the ground, which induced vibration in the crystal growth system,
"We are located in a basement," Harrison says. "Before we got the NSM system, I could actually see somebody walking down the stairs through the walls with a seismometer. With the Negative-Stiffness system in place, I can't even tell when they are shelling at the nearby Fort Riley military base.
Improving Detection of Special Nuclear Materials
Gamma ray detectors have been around for years, but they are either very low efficiency, poor performance or they require liquid nitrogen cooling, such as those employing germanium. Imagine the difficulty required to take liquid nitrogen into a remote desert searching for special nuclear material.
"What we are trying to do at SMART Lab is make it more feasible, more economical for these detectors to be put in place at every critical check point, at every airport and shipping port," Harrison says. "This will increase the possibility of detecting and intercepting shipments of special nuclear material, should they occur."


The full article can be found at: http://www.minusk.com/content/in-the-news/PhoOn_0711.html


Featured Product: The Compact BM-10 Is Now Stronger!!!

Minus K has increased the range on our most compact standard isolator.With minimal re-engineering we have been able to bring our BM-10 isolators up to 100 lbs and is proud to introduce our new BM-10 models, the 75BM-10 & 100BM-10.
We have been asked for heavier capacity BM-10 isolators for some time. Previously we have been able to get to 65 lbs, but now we are pleased to announce that we can get over 100 lbs in this compact low height isolator without significantly increasing the price.

The BM-10 offers a 1.5Hz horizontal natural frequency and our signature 0.5 Hz vertical natural frequency. There are only two adjustments. The BM-10 is perfect for new generations of small SPM's that require the highest performance in a very compact system
These new BM-1 Models are now offered in both of our popular workstations, the WS-4 and MK26.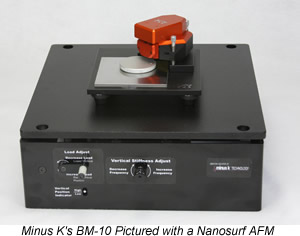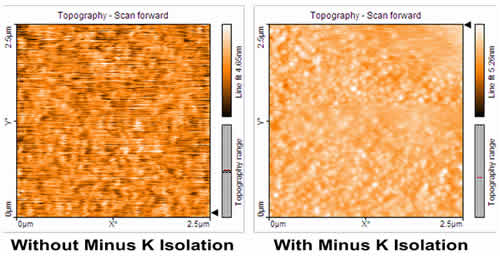 The above images where captured by a nanosurf AFM without isolation and with a Minus K BM-10
Load Capacities (approximate):
Model
Payload Range*

Price**

10BM-10

0 - 10 lb (0 - 4.5 kg)

$2,530

25BM-10

10 - 30 lb (4.5 - 14 kg)

$2,585

50BM-10

30 - 55 lb (14 - 25 kg)

$2,640

75BM-10

50 - 80 lb (22.7 - 36.3 kg)

$2,695

100BM-10
75 - 110 lb (34 - 50 kg)

$2,750

*Contact Minus K for custom payload ranges

.

**For International Orders, A Handling Fee of 5% is Added.
Specifications:
Weight: Approximately 35 lb (16 kg))
Dimensions: 12.2" W x 12.2" D x 4.6" H (310mm W x 310mm D x 117mm H)

Performance


New MK52 Negative-Stiffness Optical Vibration Isolation Table

Press Release: September 2011
Minus K Technology has partnered with Kinetic Systems, Inc in designing a new, versatile, ultra-low-natural-frequency optical table isolation system. The MK52 negative-stiffness optical table achieves 0.5 Hz or lower vertical and horizontal natural frequencies without limiting its ability to support static loads. When adjusted to a 0.5 Hz natural frequency, the MK52 achieves 93% isolation efficiency at 2 Hz, 99% at 5 Hz, and 99.7% at 10 Hz.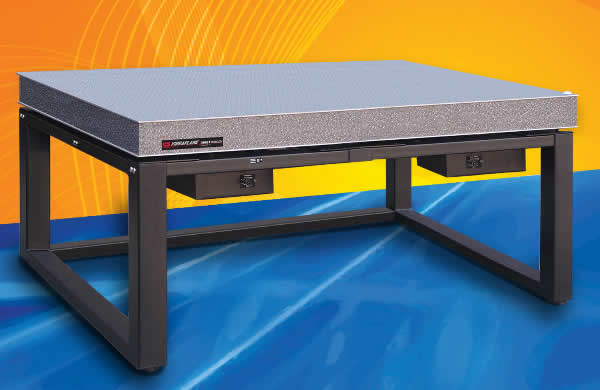 The MK52 Optical Vibration Isolation Table can be configured for a wide variety of locations and applications - wherever external vibrations can adversely affect the operation of sensitive equipment. Ultra-low natural frequencies, high internal structural frequencies, and excellent vertical and horizontal isolation efficiencies make the system well-suited to applications such as analytical balances, cell injection, confocal microscopes, patch clamping, optical microscopes, wafer probing, sensor calibration, and laser applications in fields such as semiconductor processing, telecommunications, aerospace engineering, and medical research. The MK52 is also ideal for applications requiring high resolution, such as Raman spectroscopy, atomic force microscopy (AFM), AFM-Raman integration, and micro-hardness testing.

The MK52 is available in table sizes up to 4' x 8' with gross load capacities up to 2000 pounds (909Kg) (larger optical table sizes will be considered). Tables are constructed with a 3/16" thick ferromagnetic stainless steel top skin, 3/16" thick carbon steel bottom skin, and plated-steel precision honeycomb core.

Customization options include guard rails, padded armrests, overhead equipment shelves, monitor stands, non-isolated shelves for supporting equipment off the tabletop, seismic restraints, auxiliary work surfaces, retractable casters, Faraday Cages, and tabletop enclosures to protect against harsh manufacturing environments.


Check out all the specifications at: http://www.minusk.com/content/products/standard/mk52_optical_tables_vibration_isolation_systems.html

News: Minus K Technology Is Veteran Owned and Certified California Small Business

Minus K is a Veteran Owned Small Business.and a certified State of California Small Business. All our products are proudly made in the USA.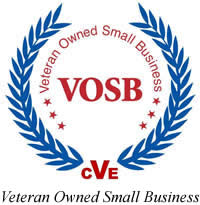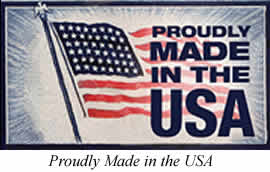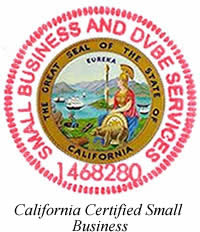 Comments/Suggestions: Applications in New Fields or Features of Interest to You in Our Next Newsletter:
Upcoming Meetings and Webinars:


Meeting:
Sponsor:
Dates:
Location:
Rusnanotech 2011

Rusnano Corp
Oct. 26, 2011 -
Oct. 28, 2011
Moscow, Russia
http://www.rusnanoforum.ru/eng/
2011 NIH Research Festival Exhibit
National Institutes of Health
Oct. 27, 2011 -
Oct. 28, 2011
Bethesda, MD
https://id286.securedata.net/gtpmgt/nih/prereg.php
Neuroscience 2011

Society for Neuroscience
Nov. 12, 2011 -
Nov. 16, 2011
Washington, D.C.
http://www.sfn.org/am2011/
Trends in Nanotechnology International Conference (TNT2011)

Phantoms Foundation
Nov. 21, 2011 -
Nov. 25, 2011
Tenerife, Canary Islands, Spain
http://www.azonano.com/events/eventdetails.aspx?eventID=876
2011 MRS Fall Meeting & Exhibit

MRS
Nov. 28, 2011 -
Dec. 2, 2011
Boston, MA
http://spie.org/photonics-west.xml
SPIE Photonics West 2012

Visit Minus K Booth #1535 at this exhibit
Jan. 24, 2012 -
Jan. 26, 2012
San Francisco, CA
http://spie.org/photonics-west.xml
Pittcon Conference and Expo

Pittsburgh Conference on Analytical Chemistry and Applied Spectroscopy

March. 11, 2012 -
March. 15, 2012
Orlando, FL
http://www.pittcon.org/
CLEO:2012

CLEO

May. 8, 2012 -
May. 10, 2012
San Jose, CA
http://www.pittcon.org/
NSTI NanoTech 2012
Visit Minus K at this exhibit

June. 18, 2012 -
June. 21, 2012
Santa Clara, CA
http://www.techconnectworld.com/Nanotech2012/
Click Here To Join Us Now On Facebook


We want to hear from you:

Tell us if you have had a great experience with our isolators. Work with us on an article about how negative-stiffness has helped you. Don't be shy. Share your application with our readers.

Do you have an application in a New Field? What applications are of Interest to You?
Email us at newsletter@minusk.com

460 S. Hindry Ave., Unit C Inglewood, CA 90301
Tel: 310-348-9656 Fax: 310-348-9638
Contact Us www.MinusK.com
© Minus K Technology Inc., Vibration Isolation Systems. All rights reserved.