Number 7, July 2010

What's Here for You:
Vibration Isolation News is designed to keep our customers and friends up to date on the latest products and applications designed to facilitate better measurements and improved nanomanufacturing. We are an OEM supplier to leading manufacturers of scanning probe microscopes, micro-hardness testers and other sensitive instruments, and we have users at more than 200 leading universities and private and government laboratories in 35 countries.

INDEX

1. Weizmann Institute's Scanned Probe Microscopy Unit


2. Featured Product: BM-8 Gets Stronger


3. Audiophile Recomendation: Holy Earthquake, Batman!


4. Our latest Ad


5. Upcoming Nanotechnology Meetings and Webinars


6. We want to hear from YOU

Measuring the Electron Transport Properties of DNA Molecules
By Jim McMahon
Excerpted from Medical Design Technology - June 2010
DNA has begun to be considered as a possibility for molecular electronics. At Israel's Weizmann Institute of Science, scanning probe microscopy and negative-stiffness vibration isolation enables nano-level DNA research.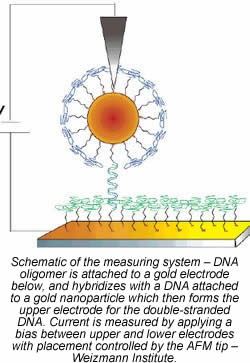 Because DNA is able to recognize other molecules, other strands of DNA, and because it binds together with similar DNA strands in a very unique way, scientists have suggested the possibility of using DNA as an electronic circuit without having to build in any other circuitry. The DNA would bind with other similar DNA strands which it recognizes, then use the connecting properties of the DNA to create a self-assembled biological wire for electrical conduction. Until recently, uncertainty existed about whether DNA could conduct at all, and if it could, how well it could conduct. Scientific speculations ranged from DNA being a superconductor to a complete isolator. However, recent research by Dr. Sidney R. Cohen in collaboration with Dr. Ron Naaman and Dr. Claude Nogues of the Weizmann Institute of Science, Scanned Probe Microscopy Unit, in Rehovot, Israel, aided by the enabling technologies of ultra-high-resolution microscopy and negative-stiffness vibration isolation, has shed new light on the electrical transport properties of DNA, focusing on the capacity of single molecules of DNA to transport current along individual strands.

The Weizmann Institute's Scanned Probe Microscopy Unit
The Weizmann Institute's Scanned Probe Microscopy Unit provides research and imaging into nano-scale electrical and mechanical properties of materials and biological applications, such as with DNA. The lab includes facilities for sample preparation and testing involving ultra-high resolution microscopies and localized surface probing using scanned probe microscopies. The unit contains three separate scanning tunneling/scanning force microscopes (Digital Instruments Nanoscope, NT-MDT P47/LS and NTEGRA) that enable determination of surface topography and mechanical and electrical properties at resolutions ranging from tens of microns down to atomic scale. Liquid cells, heated and cooled stages, and a gas inlet allow working in different media and under controlled temperature and humidity.

DNA Measurement Challenges
Deoxyribonucleic acid (DNA) is a nucleic acid that contains the genetic instructions used in the development and functioning of all known living organisms and some viruses. The main role of DNA molecules is the long-term storage of information. DNA nanotechnology uses the unique molecular-recognition properties of DNA to create self-assembling branched DNA complexes with useful properties.

DNA molecules are very easily destroyed. Hooking up these gold connectors and balls at the nano level without tearing them off or burning them out is quite challenging. This preparation method, developed by Dr. Nogues, is critical and somewhat time consuming, but is a fundamental aspect of this research model.

Vibration Isolation Critical to DNA Research
The Weizmann Institute is one of the few research groups in the world that has actually managed to measure the electrical transport properties of a single molecule of DNA. One of the challenges that presents itself in nanoscale research is vibration isolation. Every laboratory measuring and imaging at the nano-level is dealing with problems of site vibration, which compromises to a greater or lesser degree the imaging quality and data sets which are acquired through ultra-high-resolution microscopy. A critical factor in the Weizmann Institute's ability to consistently measure DNA electron structures at such extreme nano-level resolutions is the lab's use of negative-stiffness vibration isolation systems, developed by Minus K Technology, which produced the ultra-stable environment that the AFMs needed to execute this research.

"Any lab site is subject to vibrations from machines, vibrations of the building itself and even from people walking around, in the range from less than 10 hertz to about 30 hertz," says Cohen. "The lab has three separate AFM systems, each with several different modules that require very precise vibration isolation for all of our research, including our DNA electron transport studies. We have opted on negative-stiffness vibration isolation to provide the necessary low-noise environment."

Negative-stiffness mechanism (NSM) isolators have the flexibility of custom tailoring resonant frequencies vertically and horizontally. They employ a completely mechanical concept in low-frequency vibration isolation. Vertical-motion isolation is provided by a stiff spring that supports a weight load, combined with a NSM. The net vertical stiffness is made very low without affecting the static load-supporting capability of the spring.

"We tried air tables but they did not do very well for us with the horizontal vibrations, continues Cohen. "Then we compared active systems to the Negative-Stiffness isolator, measuring the frequency spectrum up to about 100 hertz, and the active systems did not perform as well as the negative-stiffness isolator."

Because they run on electricity, active systems can be negatively influenced by problems of electronic dysfunction and power modulations, which can interrupt scanning. They also have a limited dynamic range – which is easy to exceed – causing the isolator to go into positive feedback and generate noise underneath the equipment. Although active isolation systems have fundamentally no resonance, their transmissibility does not roll off as fast as negative-stiffness isolators.

Leading the Way
The Weizmann Institute conducts original research into many diverse areas, including mechanical properties of materials and biological applications, such as with DNA. The method for obtaining successful results from its research is a continuing process of improving and refining its protocols, procedures, equipment, and systems. Dr. Cohen, together with Doctor Nogues and Doctor Naaman, continue to pioneer and lead the way to a better understanding of the electron transport properties of DNA molecules.

The full article can be found at: http://www.minusk.com/content/in-the-news/MedDesTec_0610.htm


Featured Product: BM-8 Bench Top Is Now Stronger

Minus K Is proud to offer our largest low height vibration isolator in four new capacities. After mutilple requests to increase the payload range of our popular BM-8, we have engineered the 125BM-8, 150BM-8 and 200BM-8.
One special area of requests has been from the Audiophile community. With high end turntables like the Simon Yorke, TW Acustic Raven, VPI TNT and many others, the need for the increased payload was evident.

The BM-8 bench top platform offers 10-100 times better performance than a full size air table in a package only 4.6 inches tall, and without air or electricity!
This vibration isolation platform is extremely easy to use and offers extreme performance. It offers a 1.5 Hz horizontal natural frequency and our signature 0.5 Hz vertical natural frequency. There are only two adjustments.
This is the thinnest, most portable, and most user-friendly isolator ever offered that is capable of delivering this level of performance.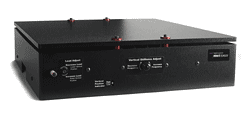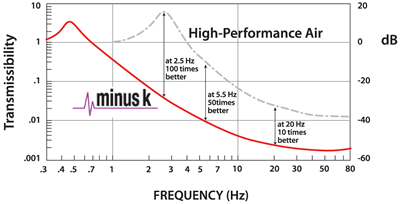 Minus K's BM-8 Bench Top Vibration Isolator
Typical transmissibility curve with 1/2 Hz natural Frequency
Load Capacities (approximate):
Model
Payload Range*

Price**

25BM-8

10 - 30 lb (4.5 - 14 kg)

$2,640

50BM-8

25 - 55 lb (11 - 25 kg)

$2,695

100BM-8

50 - 105 lb (23 - 48 kg)

$2,750

125BM-8

90 - 130 lb (40 - 59kg)

$2,805

150BM-8
125 - 155 lb (56 - 70 kg)

$2,860

200BM-8 [Weight: Approximately 47 lb. (21 kg)/same dimensions]
140 - 210 lb (81 - 93kg)

$2,950

*Contact Minus K for custom payload ranges

.

**For International Orders, A Handling Fee of 5% is Added.
Specifications:
Weight: Approximately 40lb. (16 kg)
Dimensions: 18" W x 20" D x 4.6" H (457mm W x 508mm D x 117mm H)

Performance

Horizontal frequencies are weight dependent.

Horizontal frequency of 1.5 Hz is achieved at the upper limit of the payload range.

At the lower limits of the payload range the horizontal frequency is approximately 2.5 Hz.

Vertical frequency is tunable to 0.5 Hz throughout the payload range.
Negative-stiffness isolators have resonant frequencies at 0.4 to 0.5 Hz, compared to 2 to 3 Hz for typical pneumatic systems. They transmit less energy from low-frequency vibrations to the payload than do pneumatic systems, and maintain better isolation performance through building frequencies to about 100 Hz or more.

http://www.minusk.com/content/products/standard/bm-8_vibration_isolator_anti_vibration_isolators.html

The Minus K BM-8 Isolation Platform
By Jeff Dorgay
Excerpted from Tone Audio- June 2007
Aside from friends that have had too much to drink vibration is your turntable's biggest enemy. The more you can isolate your table from your environment the more musical detail your analog rig will be able to resolve.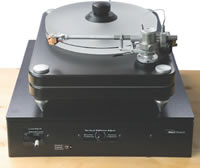 The cool thing about the Minus K platform is that it is a passive device, so that means no vacuum pump and none of the extra noise that goes with a pump or the complexity that it brings to the table. After all, the quieter and more resolving your system gets, the last thing you want is a pump in the background chugging away!!

Unpack and Adjust
The BM-8 is 18" wide by 20" deep and 4.6" high so make sure that you have enough room on your shelf or rack, as well as the ability to support the 35 pounds of the platform in addition to your turntable. There are multiple models, to accommodate equipment from 10-200 pounds. I would suggest to get maximum performance, if you can match the model you need so that your table is in the middle to high end of the weight range.

Once you have completed this part, nailing the sweet spot for the vertical softness adjustment will take a bit more time, but is somewhat of an adjust to taste setting. This affects the bounciness of the springs in the platform and again after a lot of listening noticed that by going from loose to tight will affect the overall sound. As you might expect going a bit tighter consequently tightens up the sound, and going a bit more springy gives the overall presentation a bit warmer feel.
Even if you are a bit off the mark, you should notice a good degree of improvement and I felt that the more you listen and make fine adjustments, you will notice a sweet spot where you are getting the maximum isolation without the presentation getting too warm or bouncy.

Let's start at the bottom and work our way up.
I noticed two major areas of improvement to the analog presentation with the BM-8 in my system: Tighter, more tuneful bass and better resolution of low-level detail. Just to make sure I wasn't going mad, I picked out a wide range of albums to listen to right in a row and then put the base in and listened again. I used a lot of standards that perhaps are not the audiophile standards, but records that I am infinitely familiar with.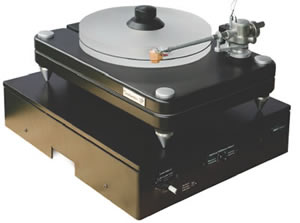 Though this was great, the biggest improvement was the in the area of low-level detail retrieval. I kind of freaked out from the minute I started listening and the more time I spent with the BM-8, the more I found myself pulled into the music. Listening to all of my Doors albums (the DCC versions) I really enjoyed how much more air was in the presentation; there was so much detail lurking in these already great LP's! Again, this was not that subtle of an improvement. I could really hear my system take a big jump in low level resolution. This was one of those improvements to your system that makes you go right to a lot of your favorite records just to get a quick read on the sound!

I highly recommend the BM-8 with only one reservation; I would make this device the icing on the cake of a very good system. If you have everything else in your system the way you want it (including room treatments) and are just aching for a little more performance, I think you will be pleased with this upgrade. It's not going to turn a budget table into a mega analog rig, but it will allow you to see further in to the presentation on a first rate system. I'm kind of thinking I need one... •

The full article can be found at: http://www.minusk.com/content/in-the-news/ToneAud_0607.html

Comments/Suggestions: Applications in New Fields or Features of Interest to You in Our Next Newsletter:
Upcoming Meetings and Webinars:


Meeting:
Sponsor:
Dates:
Location:
SPIE Optics and Photonics
Visit Minus K Booth #523 at this exhibit
Aug. 3, 2010 -
Aug. 5, 2010
San Diego, CA
http://spie.org/optics-photonics.xml
American Society of Cell Biology
Visit Minus K Booth #1227 at this exhibit
Dec. 12, 2010 -
Dec. 14, 2010
Philadelphia, PA
http://www.ascb.org/meetings/
International Conference on Nanotechnolgy: Fundamentals and Applications
International Academy of Science, Engineering and Technology

Aug. 4, 2010 -
Feb. 6, 2010
Ottawa, Canada
http://www.international-aset.com/2010_nanotechnology_conference/about_conference.html
SPIE Photonics West
Visit Minus K Booth #604 at this exhibit
Jan. 25, 2010 -
Jan. 27, 2010
San Francisco, CA
http://spie.org/x2584.xml

We want to hear from you:

Tell us if you have had a great experience with our isolators. Work with us on an article about how negative-stiffness has helped you. Don't be shy. Share your application with our readers.

Do you have an application in a New Field? What applications are of Interest to You?
Email us at newsletter@minusk.com

460 S. Hindry Ave., Unit C Inglewood, CA 90301
Tel: 310-348-9656 Fax: 310-348-9638
Contact Us www.MinusK.com
© Minus K Technology Inc., Vibration Isolation Systems. All rights reserved.