Newsletter August 2019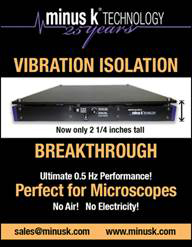 Custom Vibration Isolation Systems
Minus K engineers can design a variety of custom vibration isolation systems. Frequently these are modifications of other designs such as changing the load capacity of an SM-1 isolator, or the capacity, size and isolator locations on a FP-1.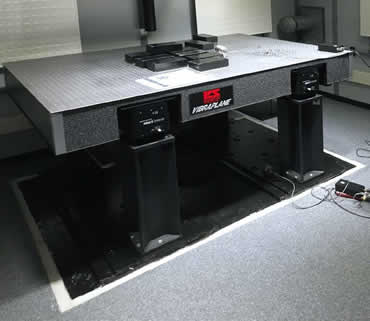 Custom table top with four resessed Minus K CM-1s and pedestals



Some other custom modifications and capabilities include:
Different vertical, horizontal or tilt stiffness in an isolator
Different vertical, horizontal or tilt damping in an isolator
Vacuum compatibility
Mildly magnetic
Heavy load capacities (Six 10,000 lb isolators for NASA's James Webb
Space Telescope Ground Testing).
Large displacements
Large temperature variations
Compact systems (e.g., a seven-inch cubic 1/2 Hz isolator for a 700 lb payload;
a six-inch diameter by 4-inches tall 1/2 Hz vibration isolation platform for a 3 lb payload.)
Vertical auto-adjust feature to automatically adjust for change in payload weight.
Lock-unlock feature implemented manually with a switch or automatically
with signals, from a stage motion control system, for example.
Compact CM-1 Low Frequency Vibration Isolator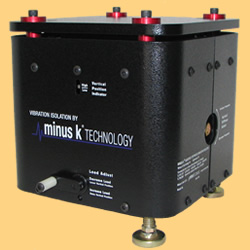 The CM-1: is a compact high capacity, low-frequency negative-stiffness isolator. As with all Minus K isolators, they are completely passive and use no air or electricity. The isolators can be combined into multi isolator systems to support heavy payloads while taking up very little room themselves.


Dimensions: 7.875" W x 7.875" D x 8.5" H (200mm W x 200mm D x 216mm H)

Vertical natural frequency of 1/2 Hz or less can be achieved over the entire load range.

Horizontal natural frequency is load dependent. 1/2 Hz or less can be achieved at or near the nominal load.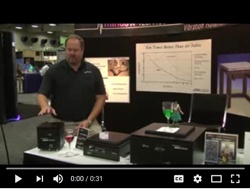 CM-1 Video
More...
Audio Reproduction & Turntable Vibration Isolation
Platforms, Tables, & Integrated Systems
Since the early 2000s, Minus K Technology, the developer of Negative-Stiffness vibration isolation, has released several vibration isolation platforms for the high-end audio market. These products have been accepted with high acclaim by audiophiles and audio system manufacturers worldwide.

The industry's highest performing vibration isolation system is available in a cost-effective, low-height platform. The BM-8 Series vibration isolation platform offers true ½-Hz isolation performance vertical and 1.5 Hz horizontal and is easy to use. No air or electric power is required, there is no maintenance and nothing to wear out. It is 18Wx20Dx4.6H and is available with nominal load capacities from 25 to 250 lbs. It is ideal for turntables, CD transports and other audio components.

The Helix One® and Helix Two® turntables from Dohmann Audio, for example, come fully integrated with Negative-Stiffness vibration isolation.
"The ability of Negative-Stiffness to deal with vibration and resonance is unsurpassed, and allows the music to be enjoyed with an outstanding level of realism.

Analog audiophile aficionados talk about blackberry notes, where the base is too prominent and muddy, explained Dohmann. This is often caused by a reinjection of vibration into the playback mechanism, adding to the amplitude of the needle movement and creating more signal that what is physically in the groove. But Negative-Stiffness vibration isolation cleans this up, so that the base is more natural. The timbre of the instrument used to produce the base, whether a string, piano or drum, sounds more like the real thing. It enables a sense of peace and calm to the playback."
- Mark Döhmann, Founder Döhmann Audio
The latest generation of Negative-Stiffness vibration isolation technology, embodied within the new ultra-thin, low-hieght Minus K CT-1, truly represents a significant advance in sound quality in a very compact package for high-end audio perfectionists.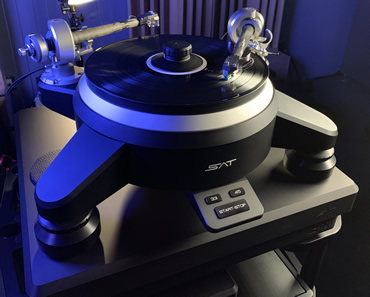 SAT (Swedish Analog Technologies) XD1 Record Player

System with Minus K

CT-1

[integrated into the platform]

"I have now tried the CT-1 with the SAT top platform the results are spectacular! I took a look at the mechanism inside of the CT-1 and I have to say I am very impressed with the ingenious work you have done. It provides most of its big brothers performance in an extremely compact package that looks very slick. The arrangement and the finish of the mechanism is an engineers dream and it should be proudly displayed. The equipment supported by the CT-1 is well isolated from vibrations from 0.7 to 100 Hz, with much deeper, clearer base and more information in the lower frequencies. The CT-1 makes a huge difference in sound quality."
- Marc Gomez, President / Swedish Analog Technologies SAT

The BM-1 Series platform offers Minus K's signature 0.5 Hz performance, both vertical and horizontal, and is available for larger and much heavier audio components.

The BM-10 Series offers smaller horzontal dementions at 12.2 W x 12.2 D x 4.6 H (310mm W x 310mm D x 117mm H).

More images, plus reviews and testimonials...