Newsletter April 2019
| | |
| --- | --- |
| | |
Minus K vibration isolation systems offer significant advantages for patch clamping, electrophysiology measurements, fluorescent dye imaging, genomic sequencing and other applications in biology and neuroscience. They eliminate the nuisance of air and outperform air tables by a factor of 10 to 100, depending on the vibration frequency. The bench top platforms are compact, saving valuable lab space, and are easy to move around.

Biology/Neuroscience Testimonials

Vibration can be caused by a multitude of factors that are internal and external to the building in which the system resides, including vibrations from heating and ventilation system, fans, pumps, and elevators as well as vibrations from adjacent road traffic, nearby construction, loud noise from aircraft, and even wind and other weather conditions that can cause movement of the structure. These internal and external influences cause vibrations as low as 2 hertz (Hz) that can create strong disturbances in sensitive equipment.

| | | |
| --- | --- | --- |
| Pacific Biosciences Automated Genomic Sequencer Sequel System with fully intergrated customized Minus K BM-6 | | Bruker Biospin Ascend Aeon 950 NMR magnet with two fully intergrated customized Minus K LC-4Us |
Related article regarding Neurology & Brain Imaging...

Related article regarding Neuronal Research into Animal Learning and Memory...
NEW CT-1 Ultra-Thin Low-Height Tabletop Vibration Isolation Platform




The CT-1: This is the thinnest, most portable and most user-friendly isolator ever offered that is capable of delivering this performance.

The Compact Tabletop (CT-1) uses Minus K's patented breakthrough technology allowing for the best performance on the market in just a 2.25 inch tall isolation platform.more...

Horizontal frequencies are weight dependent.

Horizontal frequency of ~2.25 Hz is achieved at or near the upper limits of the payload range.

At the lower payload weights the horizontal frequency will increase.

Vertical frequency is tunable to 0.5 Hz throughout the payload range.

Press Release...
Vacuum Chamber Vibration Isolation
Minus K vibration isolation systems can be made vacuum compatible so they can be used right inside vacuum chambers. In addition to their superior vibration isolation performance, this offers other advantages of much lower payload weights, more compact systems, and eliminates problems associated with vacuum chamber feed-throughs. See below example with NASA/JPL SIM Interferometer Testbed Spectral Calibration Development Unit (SCDU).

Our vibration isolation systems have also been used to support entire vacuum chambers. This offers the advantages of more standard designs and lower costs in some cases.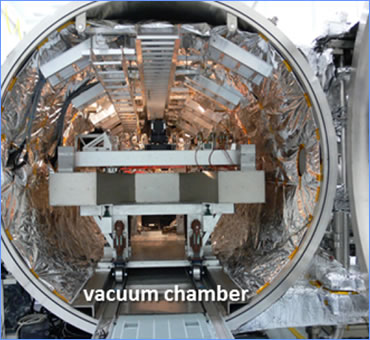 Three 1350 lb capacity Vacuum Minus K SM-1s for the
SCDU in JPL's testbed configuration.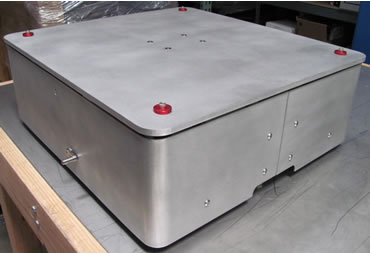 Minus K BM-1 Vacuum Isolation
Modifications for to the isolators based on your application requirements could include:
• Use of Stainless Hardware
• Removal of Paint and/or Powder Coating
• Removal of Anodizing
• Replacement of Nylon or Plastic Parts
• Electroless Nickel on Steel Parts
• Venting Blind Holes
• Use of Vacuum Grease for Low Outgassing
• Bare Aluminum
• We'll need to provide custom pricing for vacuum applications. The price is typically 3 times the standard units for vacuum compatible (internal chamber) placement.


Nanoindentation & Micro Hardness Testing
Vibration Isolation
Micro Hardness Testers and Nano Indenters can be quite sensitive to vibrations that increase the noise floor of critical measurements. The method of actually doing the measurements varies by manufacturer, but the fundamental mechanical path is similar. In all cases, the instruments need to be as still as possible to get the best performance. Some of the instruments are most sensitive to the vertical axes while others are more sensitive to the horizontal.

Minus K Technology isolators are unique in that they can deliver 0.5 Hz performance both vertically and horizontally. Most other isolators delivery their best performance vertically (which is typically the most important axis to isolate) and lower performance horizontally. While this is ok for some applications, there are those, such as some micro hardness testers that are most sensitive horizontally. For those instruments, our isolators offer by far the best isolation available.

If you have no choice but to place on of these instruments on the upper floor of a building, our isolators can make it possible to get the best performance possible. We have provided isolation solutions for many happy customers facing this very problem.

Related page...