Medical Design - January 2008
Industry News
Negative-stiffness vibration holds experiments still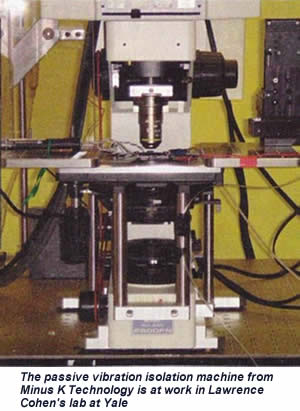 The air tables many research labs use to isolate delicate experiments from vibration can be insufficient for measuring at the angstrom and micron levels. Yale University's Professor Lawrence Cohen found a better solution for his brain-imaging experiments in Negative Stiffness vibration isolators from Minus K Technology, Inglewood, Calif., (minusk.com). "The device reduces vibrations better than air tables because it works in all three axes," says Cohen.

Negative-stiffness isolators use a completely mechanical concept to isolate vibrations. The firm says its tests show that a properly adjusted unit can cut vibration 93% at 2 Hz, 97% at 5 Hz and 99.7% at l0 Hz. The University' design uses three isolators stacked in series: a tilt-motion isolator sits on a horizontal-motion isolator and these mount on a vertical-motion isolator.

To view micron-level changes, Cohen's lab uses a camera capable of 2,000 frames/sec. "Measuring brief changes requires vibration isolation because they are so small," says Cohen. "Any movement in the lab has a big effect. If you are viewing at ten microns, and the apparatus vibrates by ten microns, you are in big trouble."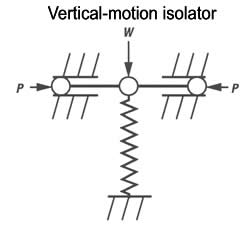 The vertical-motion isolator uses a conventional spring connected to the company's negative-stiffness mechanism which consists of two bars hinged at the center, supported at their outer ends on pivots, and loaded in compression by a force P. The spring is compressed by a weight W to an operating position. The stiffness of the isolator is K= Ks - Ka where Ks = spring stiffness, and Kn = magnitude of a negative stiffness which is a function of the bar lengths and load P. The developer says isolator stiffness can approach zero.