CEPro - May 2012
Minus K BM-10 benchtop vibration isolation platform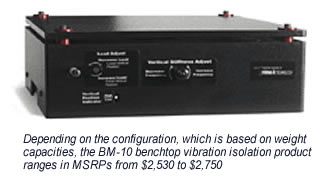 Today with vinyl selling at its highest levels in decades, the audio accessory market is heating up to keep pace as the revival in analog gear grows in leaps and bounds.

The California-based manufacturer Minus K designs and builds a complete line of vibration isolation products that are engineered to minimize vibrations to protect sensitive components from the perils of foot fall, and to eliminate the transfer of vibrations into the audio spectrum. Minus K's BM-10 benchtop vibration isolation platform is available in several versions that are designed to handle specific weight classes to isolate sensitive playback components such as turntables to enable audio enthusiasts to listen to their favorite albums with their favorite turntables without the added distortion of vibrations muddying up the listening experience.
Minus K says the BM-10 can be configured to handle weights up to 110 pounds and it measures just 4.6-inches tall and 12-inches tall and deep. The BM-10 incorporates a simple control layout that provides a minimalist two controls for simple operation and the California company claims it offers a 1.5Hz horizontal natural frequency and a 0.5 Hz vertical natural frequency.